Welcome to Artie Almeida's online home! This website will keep you up to date on Artie's upcoming clinics, as well as her published music education resources. If you have recently attended one of Artie's clinics, you can find visual support materials for many of the lessons she presented. Check back often for new additions and information.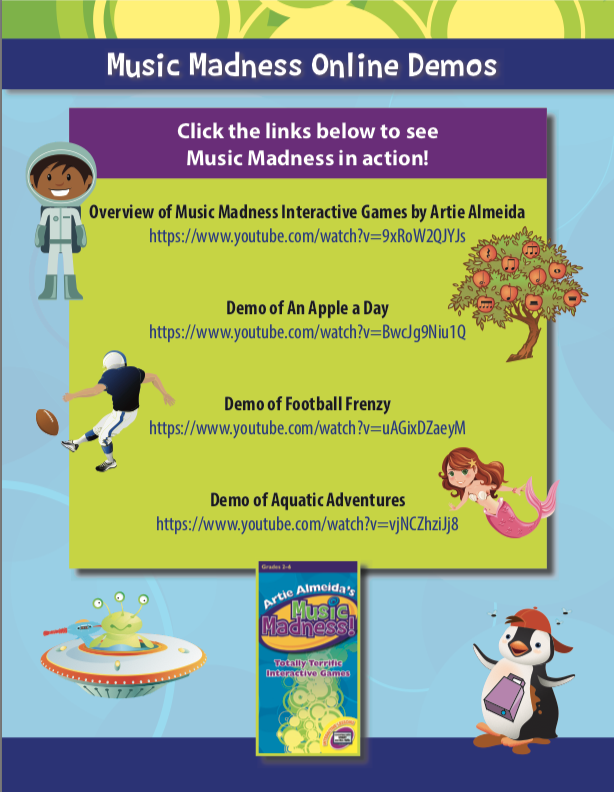 A Video Tour of Artie's Music Madness Interactive Games!
 Greetings, colleagues. At many of my spring conferences/clinics this year, I got to spend time in the exhibits, one-on-one with teachers, showing my resources and explaining a lot of the materials that are published, but that I rarely use in clinics, because of the time involved to "take a thorough tour" of the instructional materials. My collection of Interactive Games called Music Madness was one of the most well-received! They have a higher level of animation and programming than most of the other interactive kits I have used. I got to choose my own composer (who did all original music for each game), both male and female voice talent, and my favorite artist to bring the games to life. The games are humorous and attend to all necessary classroom requirements such as learning goals, well-sequenced instruction, leveled lessons, and assessments. They also work GREAT as sub plans, for which I was grateful many times. They cover Rhythm, Melody, Tempo, Dynamics, Orchestra Instruments, Non-Pitched Percussion and more. And they meet my goal of "Heavy Academics: Delivered Joyfully" in a big way! I recently remembered that we shot demo videos the year the games came out! Yay! Click on the links in this PDF to see the overview video of the kit, then demos of three of the games. Send me a message (from this website) if you have any questions!